•
concerts
•
•
music travelling and study tours
•
•
music education
•
•
music therapy
•
•
contact
•
•
links
•
•
imprint
•
•
home
•

PDF-Flyer
Susann Kobus
Diplom-Musikpädagogin
Dr. Susann Kobus
Piano lessons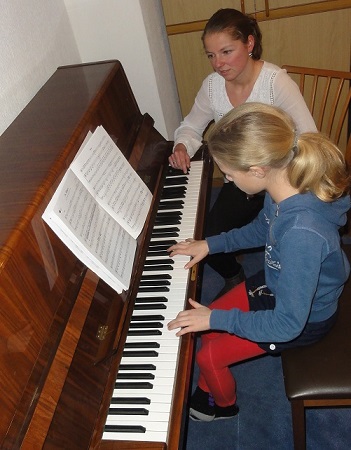 As a graduated music teacher I give piano lessons for children, youth and adults and music courses for children.

By working with music on the piano, the own musical and creative abilities can be discovered and expanded. I agree individually with each student.
A child is born with a musical talent, which continues to grow until the age of seven. This degradation can be stopped by active playing and a positive development of different areas is possible. Numerous studies have confirmed that children who play music can learn better and improve their skills in subjects like German, mathematics and foreign languages. The music stimulates the imagination and promotes the ability of concentration, the memory performance and the abilities of logical thinking and spatial imagination. The learning of an instrument can arouse and refine talents especially for adults. Due to its abstraction ability, the adults can draw logical conclusions quickly and safely. To make music is a process that brings together different areas. This is what adults see as a great asset, combined with the pleasure they have way for expressing themselve.






Music courses
For children from 3 years

My courses arouse and promote the natural musicality of the child. In the varied lessons and in a pleasant atmosphere, the children learn the basic musical elements of music, dancing and singing together. Perception and concentration skills, dexterity and expression, singing and speaking, motor and social skills are developed holistically.

Beginning: individually by consultation
Duration: about 2 years, once a week 60 minutes
Group: 4 to 6 children Language: german or english